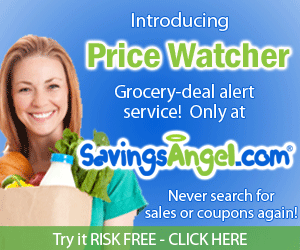 The Sensational Saver
Savings Angel Free Trial
Too busy to clip coupons and find deals? The new Price Watcher service at SavingsAngel.com allows you to pick your favorite stores, the products you use and how much you want to save. When a sale-coupon deal meets your savings target you get an email alert. Easily create a shopping list with your personalized matches, including the coupons you need for your deals. It'll save you hours of time each month, cut your grocery bill in half, and save you hundreds of dollars.

Price Watcher is brand new technology not available anywhere but SavingsAngel.com -- the most advanced yet easy-to-use grocery-deals service on the Internet. With your SavingsAngel membership, you can create your customizable shopping lists from hundreds of weekly matchup deals, easily compare deals between stores, search for specific products or coupons, get personalized help for beginners and great tips for experts, and much more. Let SavingsAngel help you save more time and money. Start today for $20 risk free – your first four weeks are guaranteed and your 2

nd

four weeks are free.
I had the opportunity to try out Price Watcher for myself. It does exactly what it says. I like that. I set the stores, products and desired savings amount and voila! Liek magic delivered to my inbox I find an email letting me know EXACTLY where I can find it!
Now instead of visiting a forum to bounce around all the posts to find the best deals or visiting multiple other websites that often have incomplete match-ups I depend on Savings Angel. It pretty much includes everything in your favorite store's sales circular. And since they have over 50 participating stores chances are that you'll find your favorite there.
Savings Angel makes it so easy that you'll almost feel guilty about the amount that you'll save shopping. Almost. Savings Angel is a subscription service but the rate is very reasonable considering the amount of time and money you will save on your shopping. I wouldn't say that if I didn't really mean it because I'm cheap when it comes to paying for services like this. There is also a money back guarantee so there is no risk involved. Try it for FREE. And let me know if you love it as much as I do.
Disclosure: This post contains an affiliate link. I was given a free trial subscription of Price Watcher in return for an honest review. Thoughts and opinions expressed are entirely my own.